His name refers to the enemies in his way. There's nothing he enjoys more than the thrill of the hunt.
Biography
Edit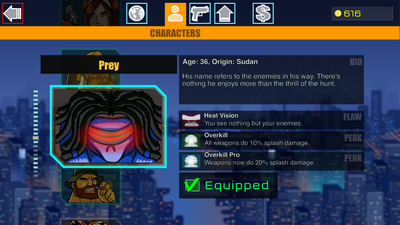 Age: 36
Origin: Sudan
Flaw: Heat Vision (You see nothing but your enemies.)
Perk 1: Overkill (All weapons do 10% splash damage.)
Perk 2: Overkill Pro (Weapons now do 20% splash damage.)
---
His name is likely a reference to the movie Predator.