A master of all things mechanical. Once built a nuclear reactor out of a toaster and a twinkie. A member of the Beta Squad Team.
Nathan, any SFH 2 fans already know him because he is NOT from SFH Extractor. He is returning from SFH 2 along with 3 other SFH 2 characters.
Biography
Edit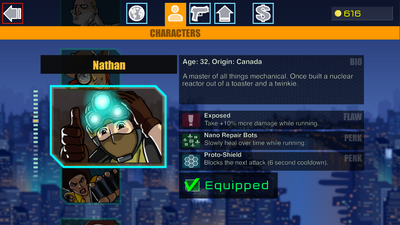 Age: 32
Origin: Canada
Flaw: Exposed (Take +10% more damage while running.)
Perk 1: Nano Repair Bots (Slowly heal over time while running.)
Perk 2: Proto-Shield (Blocks the next attack (6 second cooldown).)
Keep running but you take +10% more damage. But do not worry because if Nathan got all his perks he is very durably effective. Keep running and you get more health. In firefights, he can't regenerate his health with the Nano Repair Bots. But if you still got Proto Shield, you'll be safe for 1 shot only....It is best if you use assault rifles or smg so that it will take more time to load up - NathanPro
Nathan is the second SFH 2 character to be unlocked
Unlike the SFH 2 version (Bot one),Nathan now equips the Night Vision Helmet instead of the Retina Display helmet.
---