He was so urgently needed they literally pulled him from the shower. He's still soaking wet!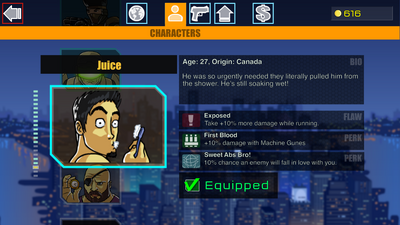 Age: 27
Origin: Canada
Flaw: Exposed (Take +10% more damage while running.)
Perk 1: First Blood (+10% damage with Machine Guns.)
Perk 2: Sweet Abs Bro! (10% chance an enemy will fall in love with you.)
Use the best machine gun (Iron Curtain) to make an angry Machine Gun. Anyways, his Sweet Abs make him probably (Sorry, GAY). Plus with that, in love enemies can't hurt Juice. What a painful guy.(Maybe)
His First Blood perk is actually a name of a Machine Gun in SFH 1 and then a sidearm knife in SFH 2
he is actually the creator, Justin.
---